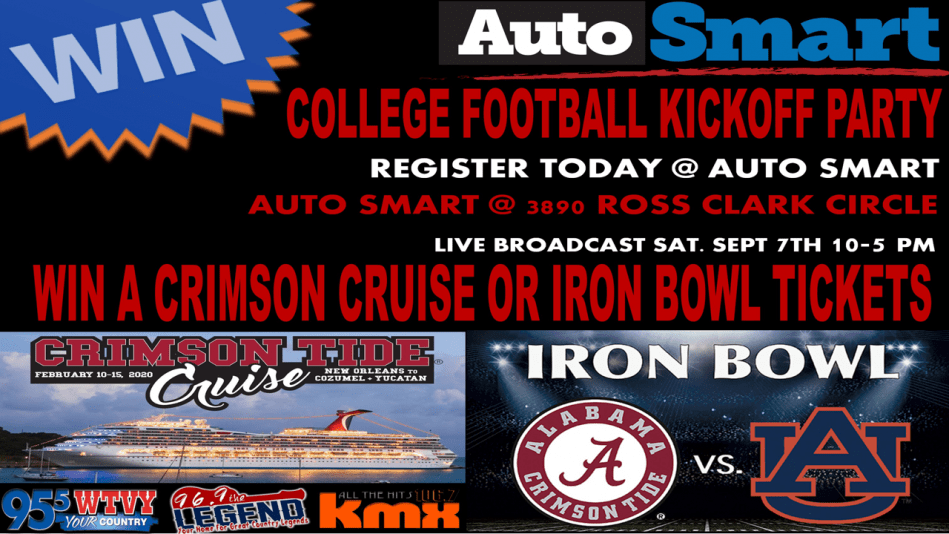 YOU'VE HEARD US TALK ABOUT IT AND NOW YOU CAN WIN IT!!!!! YOUR SPOT ON BOARD THE CRIMSON TIDE CRUISE.
SAIL THE HIGH SEAS WITH YOUR FAVORITIE CRIMSON TIDE GREATS ON THE CRIMSON TIDE CRUISE !  SETTING SAIL FROM NEW ORLEANS FEBRUARY 10-15TH ON BOARD THE CARNIVAL FANTASY! CATCH SOME RAYS—EAT TOO MUCH AND HANG OUT WITH SIRAN Stacey ( like SARAN WRAP ) ANDREW ZOW—DONTAY HIGHTOWER – JOSH JACOBS—THE VOICE OF THE CRIMSON TIDE ELI GOLD—EVEN MISS ALABAMA TIARA PENNINGTON!! FEATURING NIGHTLY CONTESTS- AUTOGRAPH SESSIONS– LIVE MUSIC— EVEN COMEDY SHOWS!
SO YOU'RE NOT A BAMA FAN??? THATS OK WE'VE GOT YOU COVERED TOO! AUBURN FANS CAN REGISTER TO WIN IRON BOWL TICKETS! EVERY FOOTBALL FANS FANTASY COME TRUE! BAMA FANS REGISTER FOR THE CRIMSON TIDE CRUISE-AUBURN FANS REGISTER TO WIN IRON BOWL TICKETS.  YOU CAN EVEN REGISTER EARLY AT AUTO SMART THIS WEEK.  GUARANTEED WINNERS THIS SATURDAY AT AUTOSMART ON ROSS CLARK CIRCLE ACROSS FROM LIFE SOUTH.  REMEMBER YOU CAN'T WIN IF YOU DON'T REGISTER.  AUTO SMART FOOTBALL KICK OFF PARTY STARTS AT 10AM.  WE WILL SEE YOU THEN!